Material for Leather and other metal parts
At WITH, we research and develop most suitable materials including coloring, threads, metal parts and leather. We produce our own leather materials.
LEATHER
– Our passion for Leather –


Human have been using "leather" for over 30,000 years.  In the ancient days, leather was made by drying animal skins, pounding, sanding, or massaging the skins, which is now considered a physical process.  Since then, how we create leather has evolved.  We used smoke, oil, soak in the plant extract, to make the fiber softer.  Today, chrome-tanning is the most popular way to treat leather.  Plant-tannin tanning and Aldehyde-tanning can be used, but chrome-tanning and plant-tannin tanning remain most popular.
At WITH, we work with local "leather" tanner in the "leather town So-ka".  We strive to develop the best leather that fits our clients' changing needs.  Also, we attend trade shows such as Mel and Lineapelle in Italy, to understand upcoming season's trend.  We provide the best leather filled with top skills and ideas to our clients.
Main characteristics of leather
Plant-tannin tanning: History goes back to BC, it's one of the oldest ways to tan, using tannin extract and drums to expedite the production process. The leather is high on its plasticity, making it less harmful to the environment.  Thus, it's a widely used method.
This type of leather is used for bottom leather, nume leather, saddle leather, and craft leather.  As you use, the color and elasticity changes over time. Some call it "leather to grow".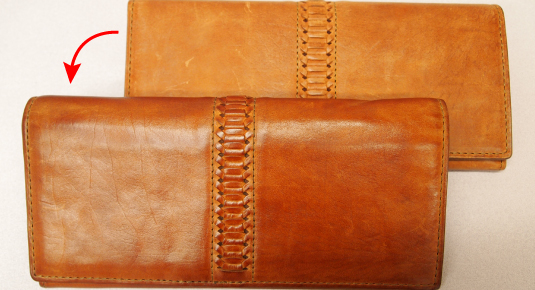 LEATHER COLOR:tan color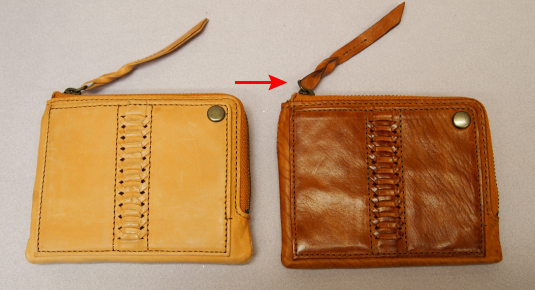 LEATHER COLOR:tan color
Chrome-tanning: Most economical method, which allows the leather to become flexible, durable, heat resistant, and easy to color.  Often used for bags and clothing items. Most widely used method.  It's resistant against scratches, however, unlike nume leather, limited aging is expected.
However, as you use over time, the leather will gain a better shine and appear well-used.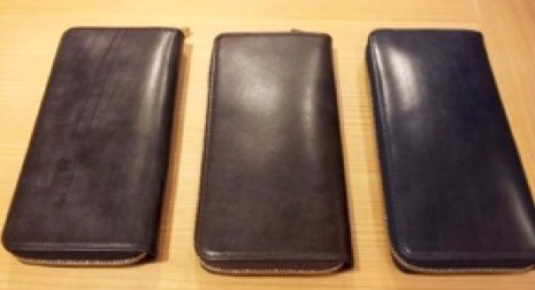 LEATHER COLOR:Saddle Leather (Black color)